"Come into this place, where the ordinary is sanctified, the human is celebrated, the compassion is expected…"
— Excerpt from "Come In" by Becky Edmiston
Classes & Workshops:

I am hitting the "Pause Button" on all classes and workshops, for now.
Spring of 2022 is my next intention to offer Moving Meditation classes and workshops. Thank you for your patience! 
Have you been curious about the movement practice of Continuum?
My classes and workshops are inspired by my studies with Continuum breaths, sounds, and movement explorations since 1995.

 

Come and tend the inside job; touching ground, reaching into sky…

A place for the flowering of your heart and soul,
body and breath, sound and movement from the inside out!


Here is what I have offered in the past to give you an idea of what is to come in Spring of 2022: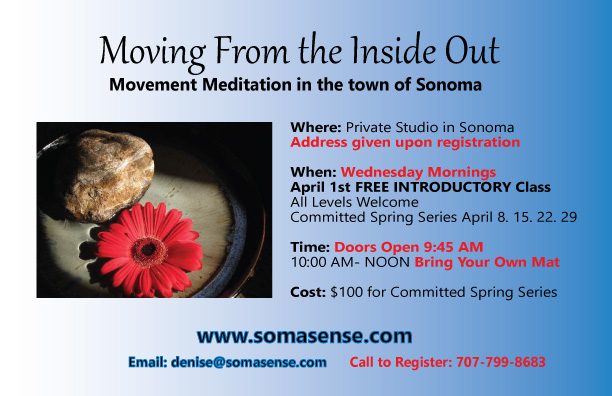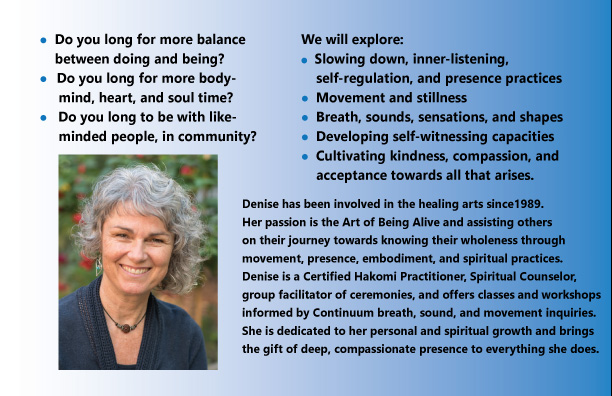 Come In
Come into this place, which we make holy by our presence.
Come in with all your vulnerabilities and strengths,
fears and anxieties, loves and hopes.
For here you need not hide, nor pretend, or be
anything other than who you are and are called to be.
Come into this place where we can touch and be
touched, heal and be healed, forgive and be forgiven.
Come into this place, where the ordinary is
sanctified, the human is celebrated, the compassion is expected.
Come into this place.
Together we make it a holy place.
BECKY EDMISTON