"Come into this place, where the ordinary is sanctified, the human is celebrated, the compassion is expected…"
— Excerpt from "Come In" by Becky Edmiston
Classes & Workshops:
FREE Intro and Spring Series POSTPONED, for now.
It will be rescheduled, at some point.
Have you been curious about
the movement practice of Continuum?

If yes, please join us, in the town of Sonoma, for a
FREE INTRODUCTORY Class
Inspired by Continuum
Wednesday April 1st
10:00-NOON
Doors Open 9:45 AM

Space is limited, so…
Pre-registration is required.
Address to private studio will be given upon registration.
Call NOW to Register:
707-799-8683
Thank you!

Please note: I will be videotaping parts of the class, focusing on me the facilitator
– Not you the students-
In service of becoming an authorized Continuum Teacher.
Footage will only be viewed by 4 other professionals.
__________________________________________

Followed by
Committed Spring Series
Dates: April 8. 15. 22. 29
Cost: $100

Come and tend the inside job; touching ground, reaching into sky…
A place for the flowering of your heart and soul,
body and breath, sound and movement from the inside out!

All you need to know about the classes is right here: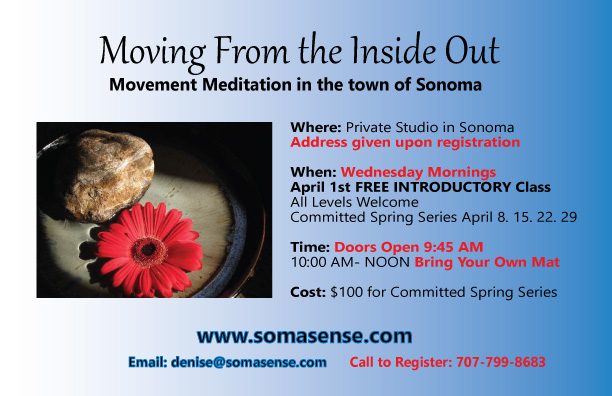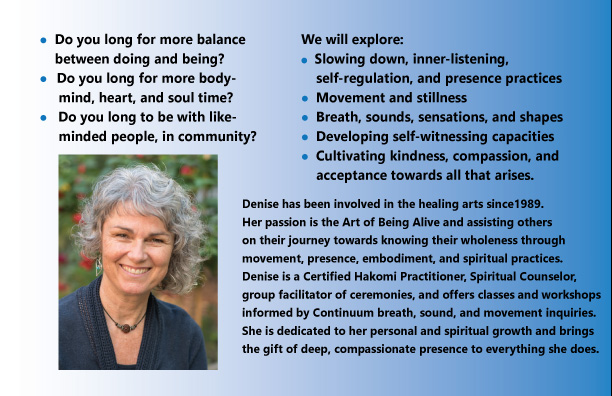 Come In
Come into this place, which we make holy by our presence.
Come in with all your vulnerabilities and strengths,
fears and anxieties, loves and hopes.
For here you need not hide, nor pretend, or be
anything other than who you are and are called to be.
Come into this place where we can touch and be
touched, heal and be healed, forgive and be forgiven.
Come into this place, where the ordinary is
sanctified, the human is celebrated, the compassion is expected.
Come into this place.
Together we make it a holy place.
BECKY EDMISTON