"Come into this place, where the ordinary is sanctified, the human is celebrated, the compassion is expected…"
— Excerpt from "Come In" by Becky Edmiston
Upcoming Workshop: Saturday September 3rd, 2022 10-4 PM
WORKSHOP IS FULL-
Email if you'd like to be on a Waitlist-
And thank you for your interest!

Have you been curious about the movement practice of Continuum? My classes and workshops are inspired by my studies with Continuum breaths, sounds, and movement explorations since 1995. Come see what this way of exploring has to offer you!

Come  ~  Listen  ~  Discover  ~  Explore                                                                                                                                     
Elemental and Biological Movement
Playing with breath, sounds, and movement…

Tending our bodies, hearts, and souls!

"An Octopuses Playground"

Saturday September 3rd 10-4 PM $108

Private Home Studio, in Sonoma

More Information: 707-939-1590

TO REGISTER: Email: denise@somasense.com w/"SIGN ME UP" in the subject line-
I will then send you the payment link w/address to the studio!

Refund policy: Full refund before 8.27.22 or if you're sick in anyway before or day of workshop.

No refund after 8.27.22

10 Human Beings Max,

Covid Vaccination Required (for now)

w/home testing day before, and morning of

Address w/registration

Doors Open 9:45 AM Wear comfortable clothing to move in. Bring lunch/snack for 45 min-ish break.

– Do you long to be with other like-minded humans, in community?

– Do you long for more body-mind, heart and soul time?

– Do you long for more balance between doing and being?

If yes, join in this self-regulating, sacred container to tend the rivers, the landscapes, and the elements that we are- From the inside out! And in the meantime, watch this recommended movie: "My Octopus Teacher" (on Netflix) If you haven't seen it yet- IT'S A MUST SEE!

Smiling with sweet anticipation,

Denise Martini

Come and tend the inside job; touching ground, reaching into sky…

A place for the flowering of your heart and soul,
body and breath, sound and movement from the inside out!

Classes I have offered in the past to give you an idea of what's coming the 1st and 3rd Wednesday's in Spring of 2023: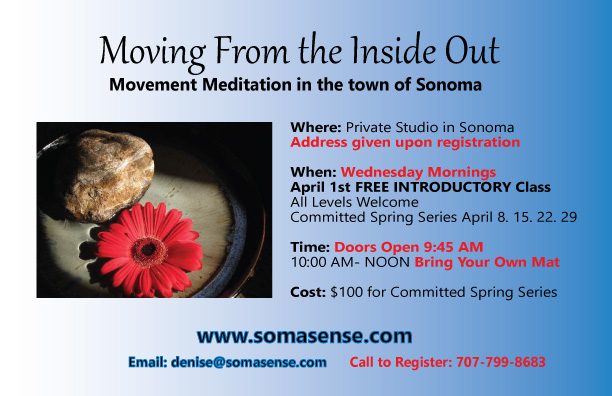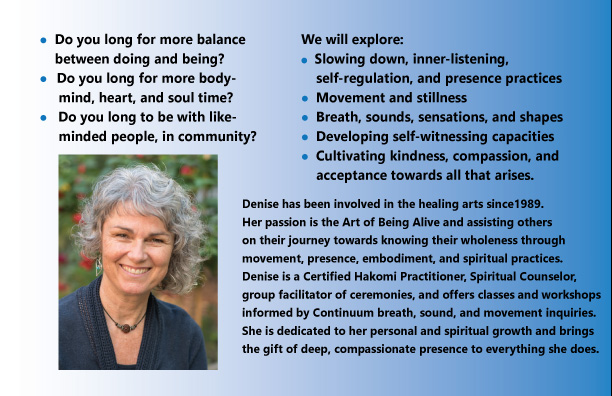 Come In
Come into this place, which we make holy by our presence.
Come in with all your vulnerabilities and strengths,
fears and anxieties, loves and hopes.
For here you need not hide, nor pretend, or be
anything other than who you are and are called to be.
Come into this place where we can touch and be
touched, heal and be healed, forgive and be forgiven.
Come into this place, where the ordinary is
sanctified, the human is celebrated, the compassion is expected.
Come into this place.
Together we make it a holy place.
BECKY EDMISTON